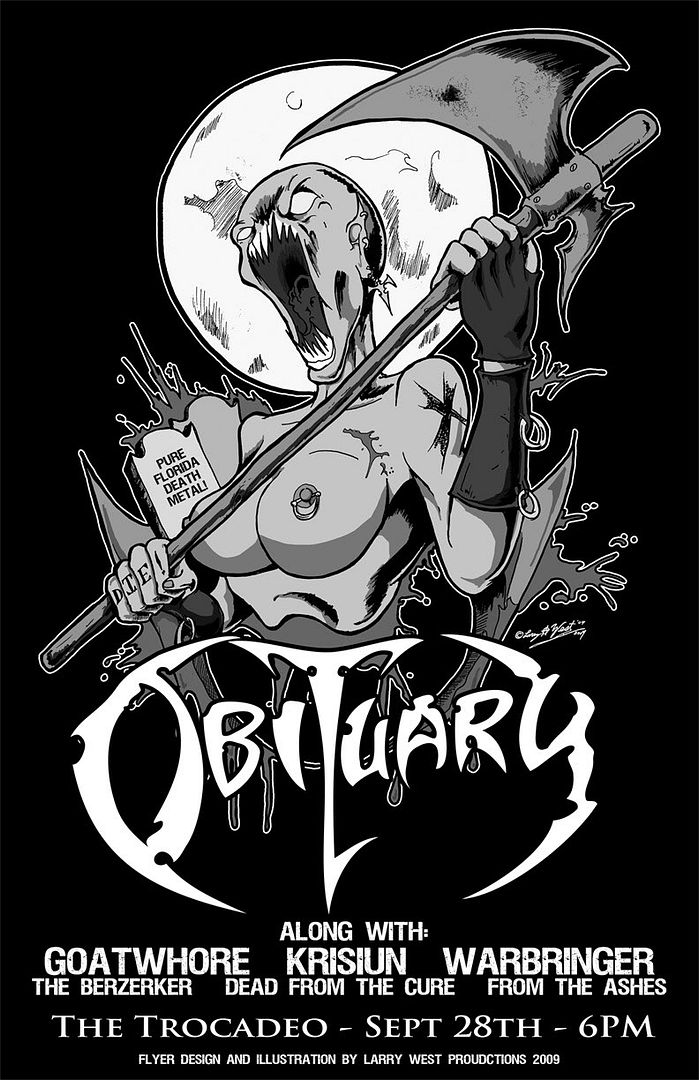 "Stop Bitching and Start a Revolution". To me, these are words to live by.
I love metal shows, and I love concert posters. So its always a shock and annoyance to me to never see posters or flyers for metal concerts coming up in Philadelphia. The local blogs seem to tend to ignore them, instead opting to post (as I've ranted a million times before) about some indie rock or trance/electronica band.
On Monday, September 28th, Obituary, Goatwhore, Krisiun, and Warbringer will play The Trocadero at 6PM! Tickets are only $17.50, $20 at the door, and it should be a good show!
You can download the awesome flyer yourself to print and hand out by clicking THIS LINK.
So go out, spread the word, tell your friends, and jump in the pit!
—
I'm really am happy about this piece. I did it over the week, and I'll post the full-color version soon. This wasn't commissioned by the band, venue, or anyone: This was 100% ME. I got the idea back in August to do this. Obituary was originally called Xecutioner, and I liked the idea of having a female executioner posing with an Axe. The idea went from her having a sort of metal-chick head to… well… this. The idea quickly became more about making a woman with a hot body, but looked like she would destroy you. Basically, tempting you to get close, but watch out!
The X on her shoulder was also based on the bands old name. I'm a big Pushead fan and I wanted to use a similar font style on something, so I picked this.
I hope you enjoy it!